A new species of <i>Andinia</i> subgen. <i>Brachycladium</i> (Orchidaceae: Pleurothallidinae) from Colombia
Abstract
A new species of Andinia belonging to A. subgenus Brachycladium from the eastern Andes of southern Colombia is described and illustrated. Andinia obesa is related to the A. nummularia species complex, characterized by the glabrous leaves, short inflorescences, an inconspicuous trilobed lip and a relatively large column. The new species can be distinguished by the unusually plump, orbicular, cucullate column with an incumbent anther.
Downloads
Download data is not yet available.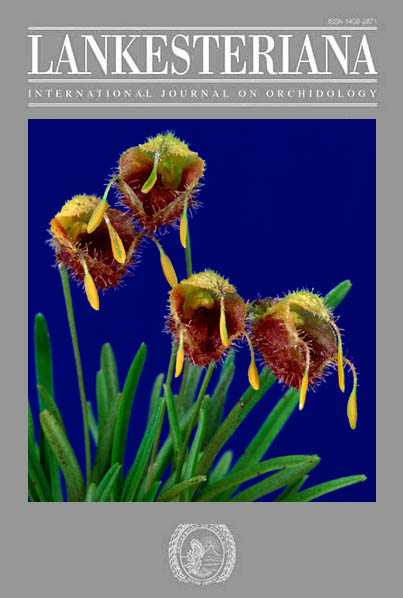 Downloads
How to Cite
Vieira-Uribe, S., & Karremans, A. P. (2017). A new species of <i>Andinia</i> subgen. <i>Brachycladium</i> (Orchidaceae: Pleurothallidinae) from Colombia. Lankesteriana: International Journal on Orchidology, 17(2). https://doi.org/10.15517/lank.v17i2.30210
License
According to the Open Access policy promoted by the University of Costa Rica, all the papers published by Lankesteriana are licensed under the Creative Commons copyright and can be downloaded free of charge. The journal holds copyright and publishing rights under the CC BY-NC-ND 3.0 CR license.
Before the publication of the materials submitted by the author(s) in LANKESTERIANA, the author(s) hereby assign all rights in the article to the Lankester Botanical Garden.