A new <i>Stelis</i> (Orchidaceae: Pleurothallidinae) from the Western Andes of Colombia
Abstract
Stelis excentrica, a new species endemic to the Cauca slope of the western Andes, municipality of Cali, Valle del Cauca, Colombia, is described and illustrated. It was found in the northern part of the Farallones de Cali National Park, in the vicinity of the protected area "El Danubio" administered by the Cali mayoralty. Stelis excentrica is similar to Stelis gigantissima from Ecuador but differs in the ocher-green flowers (vs. dark purple), the reniform petals (vs. flabellate petals), subquadrate lip with a minute apicule (vs. subcuneate without apicule). Reaching up to 30.6 mm from the apex of the dorsal sepal to the apex of the lateral sepal, Stelis excentrica probably has the largest flowers reported in any member of Stelis subgen. Stelis. Its 60 cm long inflorescence is only rivaled by that of Stelis gigantissima. Ecological notes, in situ photographs, typus illustration, maps, and a composite plate are provided.
Key Words: biggest flower, Farallones de Cali, Stelis gigantissima, taxonomy
Downloads
Download data is not yet available.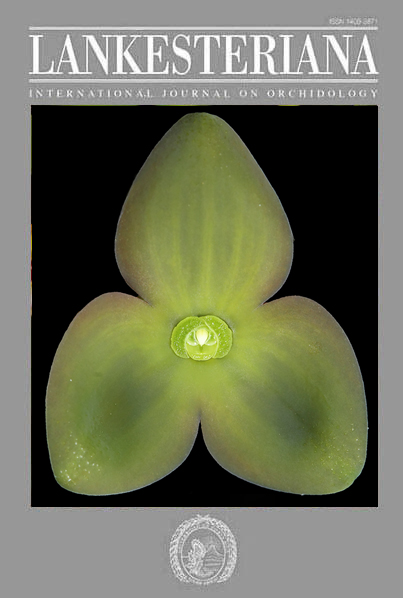 Downloads
How to Cite
Reina-Rodríguez, G. A., Karremans, A. P., López-Machado, F., & Cruz-Salcedo, J. (2020). A new <i>Stelis</i> (Orchidaceae: Pleurothallidinae) from the Western Andes of Colombia. Lankesteriana: International Journal on Orchidology, 20(2), 151–158. https://doi.org/10.15517/lank.v20i2.41876
License
According to the Open Access policy promoted by the University of Costa Rica, all the papers published by Lankesteriana are licensed under the Creative Commons copyright and can be downloaded free of charge. The journal holds copyright and publishing rights under the CC BY-NC-ND 3.0 CR license.
Before the publication of the materials submitted by the author(s) in LANKESTERIANA, the author(s) hereby assign all rights in the article to the Lankester Botanical Garden.