<i>Genera Pleurothallidinarum</i>: an updated phylogenetic overview of Pleurothallidinae
Keywords:
Acianthera, Anathallis, Dilomilis, Masdevallia, Octomeria, Phloeophila, Pleurothallis, Restrepia, Specklinia, systematics
Abstract
Subtribe Pleurothallidinae with just over 5000 species is possibly the most species-rich of all orchids. It has been growing steadily for more than two centuries, but the last three decades have been especially active in terms of systematic and phylogenetic studies in the group. The growth in species numbers has been accompanied by the marked increase in generic and infrageneric concepts. Nevertheless, Pleurothallidinae are plagued with cases of convergent and divergent morphology, and phylogenetic relatedness is not always apparent. This opens the door to controversial changes in generic circumscriptions that are considered too inclusive by some and too exclusive by others. A grave consequence of these disagreements is the difficulty of assessing which and how many species actually belong to each genus. Here an attempt is made to place generic names among their close relatives as a first step to re-evaluating the whole subtribe. 
Downloads
Download data is not yet available.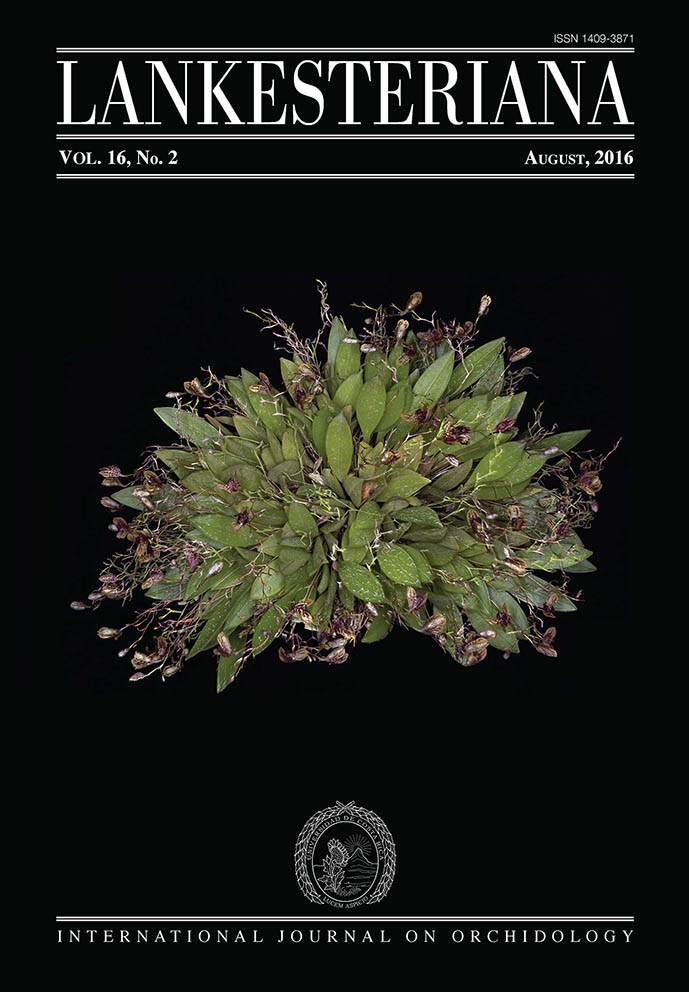 Downloads
How to Cite
Karremans, A. P. (2016). <i>Genera Pleurothallidinarum</i>: an updated phylogenetic overview of Pleurothallidinae. Lankesteriana: International Journal on Orchidology, 16(2). https://doi.org/10.15517/lank.v16i2.26008
License
According to the Open Access policy promoted by the University of Costa Rica, all the papers published by Lankesteriana are licensed under the Creative Commons copyright and can be downloaded free of charge. The journal holds copyright and publishing rights under the CC BY-NC-ND 3.0 CR license.
Before the publication of the materials submitted by the author(s) in LANKESTERIANA, the author(s) hereby assign all rights in the article to the Lankester Botanical Garden.