Two new species of <i>Andinia</i> (Pleurothallidinae) from the Central Cordillera of Peru
Keywords:
Andinia subgenus Brachycladium, Andinia subgenus Andinia, Epidendroideae, Huánuco, Peruvian Andes
Abstract
Two new Andinia species are described, A. barba-caprina and A. crassipetala, both found during a botanical expedition to the montane forests of the Central Cordillera of the Peruvian Andes. They are compared with morphologically similar species, and Lankester Composite Dissection Plates (LCDP) are provided. Andinia barba-caprina is more similar to A. tingomariana but is distinguished by having obovate sepals with sparsely erose margins and the lip with narrowly obtuse, short basal lobes and a group of large hairs on the abaxial surface. Andinia crassipetala is distinguished from the two most similar species, A. hernandoi Est.Domínguez & S.Vieira-Uribe and A. persimilis (Luer & Sijm) Karremans & S.Vieira-Uribe for having thick, deltate and obtuse petals.
Downloads
Download data is not yet available.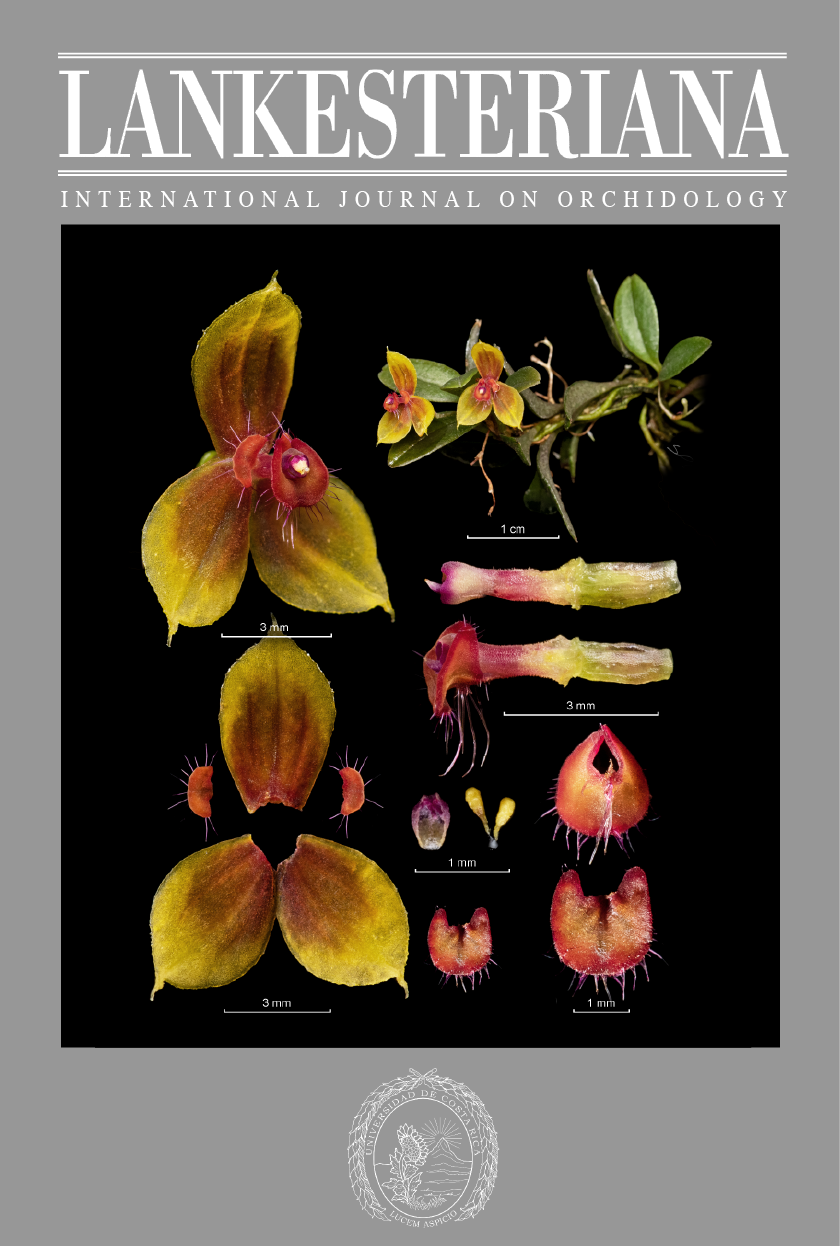 How to Cite
Ocupa Horna, L., Vieira-Uribe, S., & Yupanqui Godo, L. E. (2021). Two new species of <i>Andinia</i> (Pleurothallidinae) from the Central Cordillera of Peru. Lankesteriana: International Journal on Orchidology, 21(3), 297–306. https://doi.org/10.15517/lank.v21i3.48840
License
According to the Open Access policy promoted by the University of Costa Rica, all the papers published by Lankesteriana are licensed under the Creative Commons copyright and can be downloaded free of charge. The journal holds copyright and publishing rights under the CC BY-NC-ND 3.0 CR license.
Before the publication of the materials submitted by the author(s) in LANKESTERIANA, the author(s) hereby assign all rights in the article to the Lankester Botanical Garden.