A new and showy species of <i>Lepanthes</i> (Orchidaceae: Pleurothallidinae) from North-Western Ecuador
Keywords:
Ecuadorean orchids, Lepanthes mashpica, Lepanthes satyrica, Mashpi Reserve
Abstract
A new species of Lepanthes from north-western Ecuador is presented here. Lepanthes mashpica is similar to L. satyrica, with a long, descending, triangular process of the body of the lip but different in the simple and acute appendix versus the vertically bilobed appendix of L. satyrica. The species was found growing in several locations of Mashpi Reserve, a low-land cloud forest close to Quito.
Downloads
Download data is not yet available.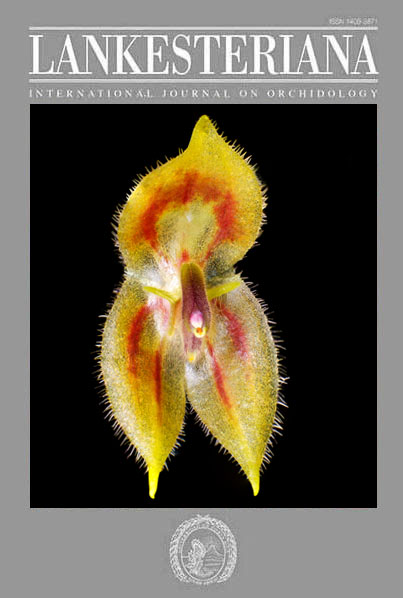 Downloads
How to Cite
Baquero, L. E., Jaramillo-Vivanco, T., & Galarza Verkovitch, D. (2019). A new and showy species of <i>Lepanthes</i> (Orchidaceae: Pleurothallidinae) from North-Western Ecuador. Lankesteriana: International Journal on Orchidology, 19(2), 99–105. https://doi.org/10.15517/lank.v19i2.38773
License
According to the Open Access policy promoted by the University of Costa Rica, all the papers published by Lankesteriana are licensed under the Creative Commons copyright and can be downloaded free of charge. The journal holds copyright and publishing rights under the CC BY-NC-ND 3.0 CR license.
Before the publication of the materials submitted by the author(s) in LANKESTERIANA, the author(s) hereby assign all rights in the article to the Lankester Botanical Garden.