Two new species of <i>Octomeria</i> (Pleurothallidinae) from Cordillera del Cóndor, Zamora Chichinpe, Ecuador
Abstract
Two new species of orchids, Octomeria pacii, and O. panguiensis are described and illustrated from Cordillera del Cóndor, Ecuador; likewise, information is provided on their distribution, habitat, and conservation status. These species differ from other species in the genus by their floral and vegetative characteristics and their apparent reproductive strategy of cleistogamy. Octomeria pacii is similar to Octomeria deceptrix, but differs in the caespitose habit, the ramicauls compressed along their entire length, the narrowly elliptical leaves, the autogamous flowers, the translucent white sepals suffused with magenta and the obovate, white lip, marked with magenta. Octomeria panguiensisis similar to O. werneri, but differs by the larger, shortly repent plants with lanceolate leaves, the cleistogamous flowers, the translucent white-colored sepals, the 5-veined lateral sepals and the oblong-trilobed lip with the apical lobe tridentate
Keywords: self-compatibility, self-pollination, cleistogamy, Octomeria deceptrix, Octomeria werneri
Downloads
Download data is not yet available.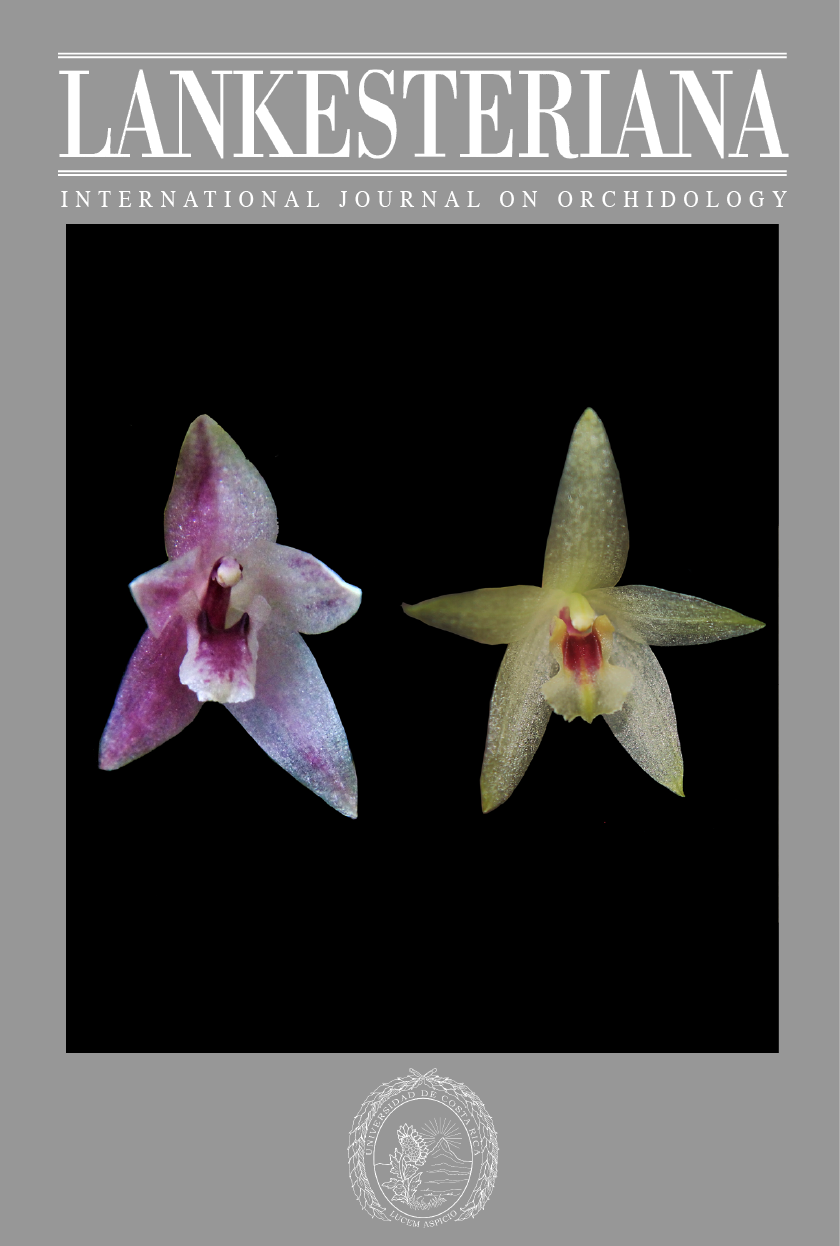 Downloads
How to Cite
Vélez-Abarca, L., Jiménez, M. M., & Baquero, L. E. (2021). Two new species of <i>Octomeria</i> (Pleurothallidinae) from Cordillera del Cóndor, Zamora Chichinpe, Ecuador. Lankesteriana: International Journal on Orchidology, 21(1), 33–44. https://doi.org/10.15517/lank.v21i1.46777
License
According to the Open Access policy promoted by the University of Costa Rica, all the papers published by Lankesteriana are licensed under the Creative Commons copyright and can be downloaded free of charge. The journal holds copyright and publishing rights under the CC BY-NC-ND 3.0 CR license.
Before the publication of the materials submitted by the author(s) in LANKESTERIANA, the author(s) hereby assign all rights in the article to the Lankester Botanical Garden.