Two new species of <i>Echinosepala</i> (Orchidaceae: Pleurothallidinae)
Abstract
We describe and illustrate two new species of Echinosepala from Costa Rica, they are placed within a phylogenetic framework of the genus, and compared to their closest relatives. A short resume of the genus' history is given, reviewing the main characters that have been used to group its species at various taxonomic ranks. Echinosepala expolita is compared with E. pan, from which it mainly differs by the glabrous, inflated sheaths that cover the ramicaul, the distinctly broader ligulate-lanceolate leaves, the lanate-hirsute ovary, the much larger flower, and the tomentose abaxial indumentum of the sepals. Echinosepala longipedunculata is similar to E. aspasicensis, but can be recognized by the unusually long peduncle, the greenish yellow flower, the verrucose-tuberculate adaxial surface of the sepals, and the shorter, truncate, orange lip. A key to the Costa Rican species of Echinosepala is provided. A new combination in Echinosepala is proposed for Acianthera biseta from Peru.
Downloads
Download data is not yet available.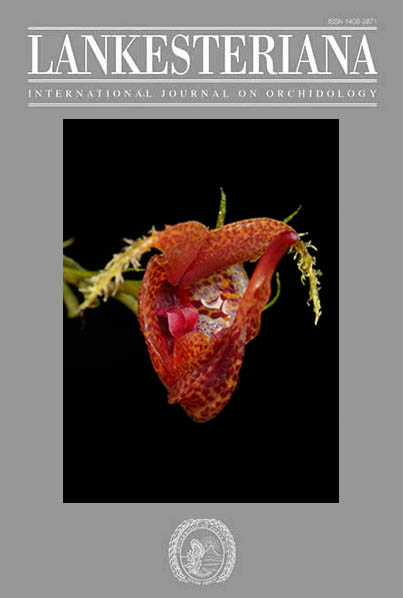 Downloads
How to Cite
Pupulin, F., Karremans, A. P., & Belfort Oconitrillo, N. (2017). Two new species of <i>Echinosepala</i> (Orchidaceae: Pleurothallidinae). Lankesteriana: International Journal on Orchidology, 17(2). https://doi.org/10.15517/lank.v17i2.30205
License
According to the Open Access policy promoted by the University of Costa Rica, all the papers published by Lankesteriana are licensed under the Creative Commons copyright and can be downloaded free of charge. The journal holds copyright and publishing rights under the CC BY-NC-ND 3.0 CR license.
Before the publication of the materials submitted by the author(s) in LANKESTERIANA, the author(s) hereby assign all rights in the article to the Lankester Botanical Garden.