Evolutionary diversification and historical biogeography of the Orchidaceae in Central America with emphasis on Costa Rica and Panama
Keywords:
biodiversity, floristics, pollination ecology, Lepanthes / biodiversidad, florística, la polinización ecología, Lepanthes
Abstract
Historically, the isthmus of Costa Rica and Panama has been a source of fascination for its strategic position linking North America to South America. In terms of biodiversity, the isthmus is considered one of the richest regions in the world. Orchidaceae is the most diverse plant family in the area, and the number of species is triple that of other well-represented angiosperm families such as Rubiaceae, Fabaceae and Poaceae. Though we are still far from knowing the exact number of orchid species occurring extant in both countries nowadays, at present the orchid flora reported for Costa Rica (1574 spp.) and Panama (1372 spp.) summarise together about 2010 species; which represents 6.5-8.0% of all orchid species on just about 1% of the Earth's land surface. Pleurothallidinae and Laeliinae are the most species rich groups and contain the largest genera: Lepanthes, Pleurothallis, Stelis and Epidendrum. These groups significantly outnumber the other genera recorded in terms of species richness. Some factors explaining this regional taxonomic diversity of orchids are the natural land bridge uniting three of the 25 recognized hotspots worldwide (Mesoamerica, Choco/Darien/Western Ecuador and tropical Andes), the climatic influence of the Pacific and Atlantic oceans, and the recent lifting of the Cordillera de Talamanca and the formation of foothills of Majé, Darien and San Blas in Panama and western Colombia. Although these factors can explain the high diversity in general terms, detailed information is needed to understand species diversification as well as the evolution of the floristic composition. Updated floristic inventories (yielding a rate of 25 new species/year) and the study of biological mechanisms that have led to the evolutionary diversification of Lepanthes (one of the major groups of orchids) are the main ongoing research projects to elucidate the evolution of Orchidaceae in Costa Rica and Panama. Towards this end, we present some preliminary results of the research conducted in this direction including the integration of phylogenetics, pollination ecology, taxonomy and biogeography. 
Downloads
Download data is not yet available.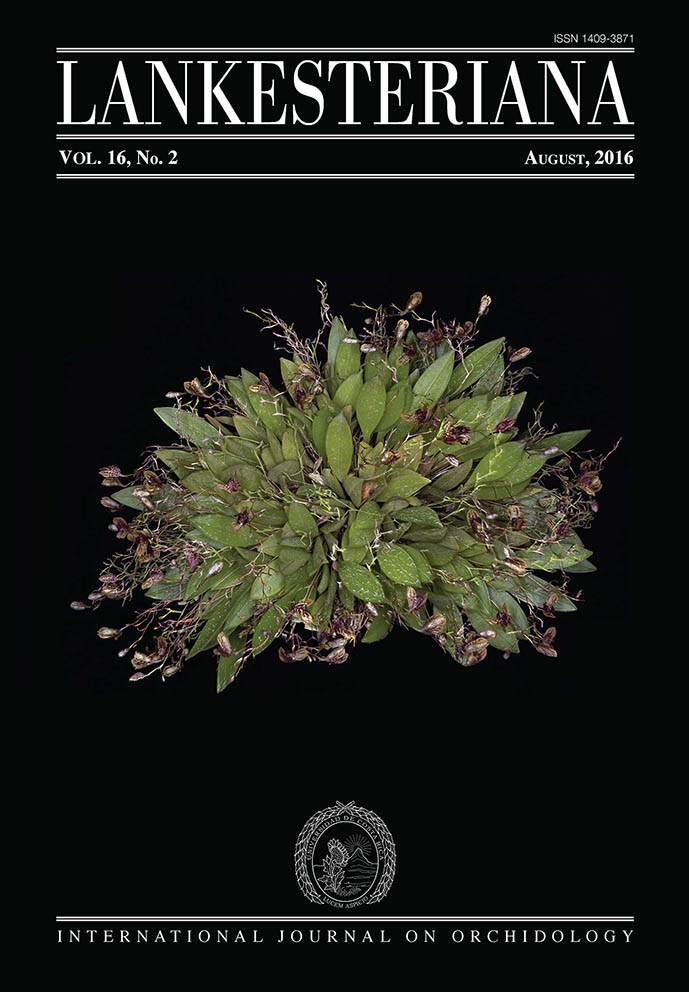 Downloads
How to Cite
Bogarín, D., Pupulin, F., Smets, E., & Gravendeel, B. (2016). Evolutionary diversification and historical biogeography of the Orchidaceae in Central America with emphasis on Costa Rica and Panama. Lankesteriana: International Journal on Orchidology, 16(2). https://doi.org/10.15517/lank.v16i2.26005
License
According to the Open Access policy promoted by the University of Costa Rica, all the papers published by Lankesteriana are licensed under the Creative Commons copyright and can be downloaded free of charge. The journal holds copyright and publishing rights under the CC BY-NC-ND 3.0 CR license.
Before the publication of the materials submitted by the author(s) in LANKESTERIANA, the author(s) hereby assign all rights in the article to the Lankester Botanical Garden.