Additions to the Costa Rican <i>Myoxanthus</i> (Orchidaceae: Pleurothallidinae)
Abstract
Pleurothallis cerea, a species described based on a specimen collected by Lankester in Costa Rica, and commonly placed under the synonymy of Myoxanthus octomeriae or M. congestus, is here recognized as distinct. The species is easily distinguished by the shape and size of the leaf, as well as various floral details, especially of the lip. A new combination, tentatively suggested by Carl Luer but never published, is required and therefore validated. Additionally, the vegetatively striking Myoxanthus affinis is recorded from Costa Rica for the first time based on two recent collections. The species is variable within its broad distribution from Colombia to Bolivia and, although differences with the original material from Peru are evident, we cannot be sure at this time that ours represents a different species. Both species are described and illustrated based on living plants. 
Downloads
Download data is not yet available.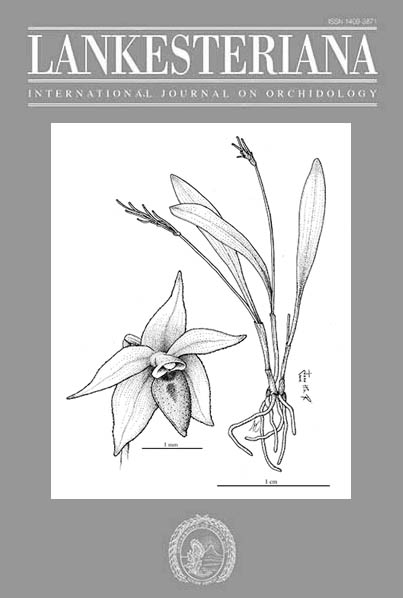 Downloads
How to Cite
Rojas Alvarado, G., & Karremans, A. P. (2017). Additions to the Costa Rican <i>Myoxanthus</i> (Orchidaceae: Pleurothallidinae). Lankesteriana: International Journal on Orchidology, 17(2). https://doi.org/10.15517/lank.v17i2.29933
License
According to the Open Access policy promoted by the University of Costa Rica, all the papers published by Lankesteriana are licensed under the Creative Commons copyright and can be downloaded free of charge. The journal holds copyright and publishing rights under the CC BY-NC-ND 3.0 CR license.
Before the publication of the materials submitted by the author(s) in LANKESTERIANA, the author(s) hereby assign all rights in the article to the Lankester Botanical Garden.