Multilocus identification of Colletotrichum species associated with papaya anthracnose
Keywords:
Phylogenetic analysis, Carica papaya, Costa Rica
Abstract
Introduction. Anthracnose caused by Colletotrichum spp., is the main postharvest disease of papaya worldwide. Molecular approaches have allowed the identification of new species of the genus associated with tropical fruits anthracnose in different countries. Objective. To identify, by morphological and molecular techniques, the Colletotrichum species associated with papaya anthracnose in Costa Rica. Materials and methods. During 2014 and 2015, 129 Colletotrichum spp. monosporic isolates were established from papaya fruits exhibiting anthracnose symptoms, collected in Parrita, San Carlos, and Guácimo, Costa Rica. All isolates were characterized by colony morphology and PCR with taxon- specific primers for the species C. gloeosporioides s.l., C. acutatum s.l., respectively, and with species-specific primers for C. magnum and C. truncatum. Species identification was confirmed by multilocus analysis, base on the partial sequence of the actin(ACT), β-tubulin (TUB2), glyceraldehyde-3-phosphate dehydrogenase (GAPDH) and chitin synthase 1 (CHS) genes and the ITS region. The phylogenetic analysis was based on the criteria of Maximum Likelihood and Bayesian analysis. Results. Six species were identified, C. fructicola, C. tropicale, C. theobromicola of the C. gloeosporioides species complex, C. simmondsii of the C. acutatum species complex, C. truncatum, and C. magnum s.l., being the latter the dominant species. Temperatures above 18 °C allowed the development of five species, C. theobromicola, C. fructicola, C. tropicale, and C. magnum s.l., which showed accelerated growth, while C. simmondsii had slow growth. Conclusion. The multilocus analysis was able to identify species belonging to the C. gloeosporioides and C. acutatum complexes. This is the first report of C. fructicola, C. tropicale, C. theobromicola, and C. simmondsii associated with anthracnose of papaya fruits in Costa Rica.
Downloads
Download data is not yet available.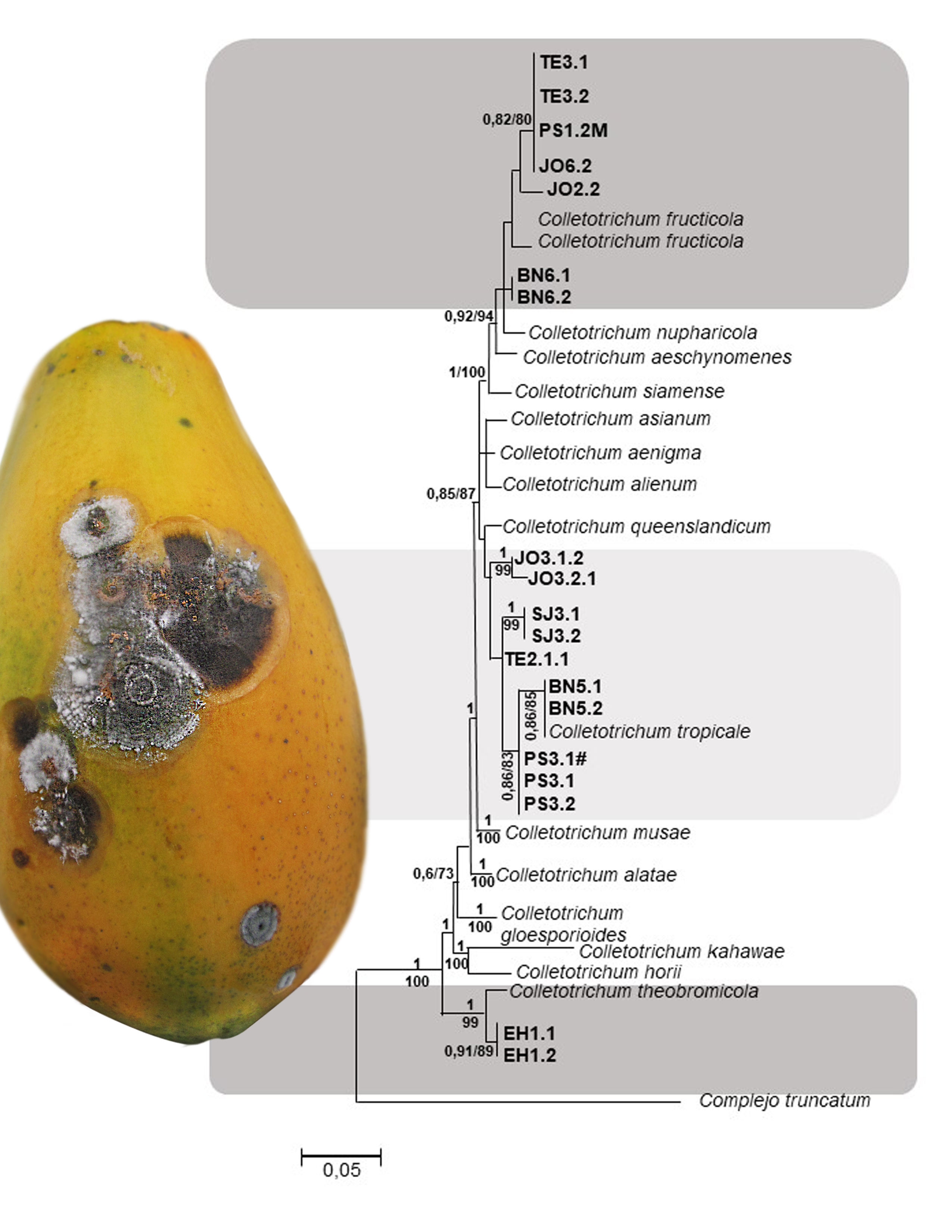 Additional Files
How to Cite
Ruiz-Campos, C., Umaña-Rojas, G., & Gómez-Alpízar, L. (2021). Multilocus identification of Colletotrichum species associated with papaya anthracnose. Agronomía Mesoamericana, 33(1), 45495. https://doi.org/10.15517/am.v33i1.45495
License
1. Proposed policy for open access journals
Authors who publish in this journal accept the following conditions:

a. Authors retain the copyright and assign to the journal the right to the first publication, with the work registered under the attribution, non-commercial and no-derivative license from Creative Commons, which allows third parties to use what has been published as long as they mention the authorship of the work and upon first publication in this journal, the work may not be used for commercial purposes and the publications may not be used to remix, transform or create another work.
b. Authors may enter into additional independent contractual arrangements for the non-exclusive distribution of the version of the article published in this journal (e.g., including it in an institutional repository or publishing it in a book) provided that they clearly indicate that the work was first published in this journal.
c. Authors are permitted and encouraged to publish their work on the Internet (e.g. on institutional or personal pages) before and during the review and publication process, as it may lead to productive exchanges and faster and wider dissemination of published work (see The Effect of Open Access).