New biostimulant for flowering and ripening in coffee (Coffea arabica L.)
Keywords:
inducers, fruiting, climate change, ecological alternative
Abstract
Introduction. Climatic variables have been affecting coffee cultivation on Central American region; high temperatures, high levels of ultraviolet light (UV), rainfall and its intensity have caused serious problems for the development of the crop. There are physiological imbalances that cause losses in stimulation and flower setting, and depending on the variety, production losses can exceed 60 %. Objective. To determine the effect of a new biostimulant on flowering, ripening and fruit quality in coffee crop. Materials and methods. The work was carried out during the years 2018 and 2019, at La Hilda farm, Murillo lot, located in Alajuela province, canton San Pedro of Poas, Costa Rica, under agroecological management. The effect of the application of a foliar biostimulant product was evaluated at a dose of 3 l ha-1, certified for organic production agriculture, was evaluated. Two treatments, two and three applications of bioestimulant were used and compared with an absolute control. The parameters evaluated were: stimulation and floral set, productive nodes for the next cycle, and fruits quality. Results. There were no significant statistical differences between the the two biostimulant treatments (3 l ha-1) in contrast to the control. When evaluating the greater fruit set and fruit quality production, when applications were made during the flowering and fruiting phase, homogeneity of ripening, and a greater number of cherries per branch were obtained. Conclusion. The use of the new biostimulant with two foliar applications on the coffee crop stimulated the flowering, ripening, and fruit quality with respect to the untreated control.
Downloads
Download data is not yet available.
References
Bioibérica. (2019). Soluciones al estrés vegetal. Bioestimulantes. "Equilibrium". Plant Health Division. https://www.planthealth.es/soluciones-estres-vegetal/bioestimulantes
Bioibérica. (2020). Equilibrium®. Ficha Técnica. Bioestimulante de acción sinérgica para un cuajado equilibrado. Bioiberica. https://www.bioiberica.com/es/productos/salud-vegetal/bioestimulantes/equilibrium
Bunn, C., Läderach, P., Ovalle, O., & Kirschke, D. (2015). A bitter cup: climate change profile of global production of Arabica and Robusta coffee. Climatic Change, 129(1–2), 89–101. https://doi.org/10.1007/s10584-014-1306-x
Cargua, C. J., Orellana, C. G. L., Cuenca, T. A. C., & Cedeño, G. G. A. (2019). Eficacia de bioestimulantes sobre el crecimiento inicial de plantas de fréjol común (Phaseolus vulgaris L.). Revista Espamciencia, 10(1), 14–22. https://www.researchgate.net/publication/342872795
Díaz, A., Suárez, C., Díaz, D., López, Y., Morera, Y., & López, J. (2016). Influencia del bioestimulante FitoMas-E sobre la producción de posturas de cafeto (Coffea arabica L.). Centro Agrícola, 43(4), 29–35. https://biblat.unam.mx/hevila/Centroagricola/2016/vol43/no4/4.pdf
du-Jardin, P. (2015). Plant biostimulants: Definition, concept, main categories and regulation. Scientia Horticulturae, 196, 3–14. https://doi.org/10.1016/j.scienta.2015.09.021
Ecocert. (2019). Atestación de insumos utilizables en la agricultura ecológica, según reglamentos (CE) No. 834/2007 & 889/2008. Referencia 16333401ES1800n12S. AgroGuadalimar. https://agroguadalimar.com/wp-content/uploads/2019/09/ECOEquilibrium.pdf
Instituto del Café de Costa Rica. (2011). Guía técnica para el cultivo del café (1a Ed.). Instituto del Café de Costa Rica. www.icafe.cr/wp-content/uploads/cicafe/documentos/GUIA-TECNIC- PDF file
Lin, B. B., Perfecto, I., & Vandermeer, J. (2008). Synergies between agricultural intensification and climate change could create surprising vulnerabilities for crops. BioScience, 58(9), 847–854. https://doi.org/10.1641/B580911
Magrin, G. O., Marengo, J. A., Boulanger, J. P., Buckeridge, M. S., Castellanos, E., Poveda, G., & Vicuña, S. (2014). Central and South America. In V. R. Barros, C. B. Field, D. J. Dokken, M. D. Mastrandrea, K. J. Mach, T. E. Bilir, & L. L. White (Eds.), Climate change 2014: Impacts, adaptation, and vulnerability. Part B: Regional aspects. Contribution of working group II to the fifth assessment report of the Intergovernmental Panel on Climate Change (pp. 1499–1556). Cambrige University Press.
Martínez, R. E., López, G. M.; Ormeño, O. E., & Moles, A. C. (Eds.). (2013). Manual teórico práctico. Los biofertilizantes y su uso en la agricultura. Secretaría de Agricultura, Ganadería, Desarrollo Rural, Pesca y Alimentación, Coordinadora Nacional de las Fundaciones Produce, A. C., & Universidad Nacional Autónoma de México. https://studylib.es/doc/6148735/manual.-los-biofertilizantes-y-su-uso
Montenegro, J. (2020). Efecto de diferentes fuentes de nitrógeno en la emisión de óxido nitroso en plantaciones de café en Costa Rica. Revista de Ciencias Ambientales, 54(2), 111–130. https://doi.org/10.15359/rca.54-2.6
Moisés, L. G., Tamayo, Y., & Barraza F. V. (2015). Ecological and economical alternative for Coffea arabica L. seedling obtainment. Revista de Ciencias Agrícolas, 32(1), 65–74. https://doi.org/10.22267/rcia.153201.25
Organización Internacional del Café. (2014). La Organización Internacional del Café de 1963 a 2013: 50 años sirviendo a la comunidad cafetera mundial. www.ico.org/documents/cy2012-13/history-ico-50-years-c.pdf
Paiva, P. (2000). Economic and social development in Latin America: The role of coffee [Presentation]. World Coffee Conference. http://www.ico.org/event_pdfs/paiva.pdf
Plaza, L. F., Loor, R. G., Guerrero, H. E., & Duicela, L. A. (2015). Caracterización fenotípica del germoplasma de (Coffea canephora Pierre), base para su mejoramiento en Ecuador. ESPAMCIENCIA, 6(1), 7–13. https://repositorio.iniap.gob.ec/bitstream/41000/4576/1/iniapeetpEC6.pdf
Ramaiah, P.K., & Venkataramanan, D. (1988). Studies on the effect of gibberellic acid on arabica coffee in India. Journal of Coffee Research, 18(1), 4751. https://doi.org/10.1016/S0044-328X(78)80022-1
Schroth, G., Laderach, P., Dempewolf, J., Philpott, S., Haggar, J., Eakin, H., & Ramirez, J. (2009). Towards a climate change adaptation strategy for coffee communities and ecosystems in the Sierra Madre de Chiapas, Mexico. Mitigation and Adaptation Strategies for Global Change, 14(7), 605–625. https://doi.org/10.1007/s11027-009-9186-5
Secretaria Ejecutiva de Planificación Sectorial Agropecuaria. (2011). Políticas de Estado para el Sector Agropecuario y el Desarrollo Rural Costarricense 2010-2021. Ministerio de Agricultura y Ganadería. http://www.infoagro.go.cr y http://www.mag.go.cr
Valverde, Y., Moreno, J., Quijije, K., Castro, A., Merchán, W., & Gabriel, J. (2020). Los bioestimulantes: Una innovación en la agricultura para el cultivo del café (Coffea arábiga L.). Journal of the Selva Andina Research Society, 11(1), 18–28. www.scielo.org.bo/pdf/jsars/v11n1/v11n1_a03.pdf
Zuaznabar- Zuaznabar, R., Pantaleón, G. P., Milanés, N., Gómez, J. I., & Herrera, S. A. (2013). Evaluación del bioestimulante del crecimiento y desarrollo de la caña de azúcar FitoMás-E en el estado de Veracruz. México. ICIDCA, 47(2), 8–12. https://issuu.com/revistaicidca/docs/revista_icidca_vol_47_no_2_2013
Zuluaga, V., Labarta, R., & Läderach, P. (2015, July 26-28). Climate change adaptation: The case of coffee sector in Nicaragua [Conference]. Agricultural & Applied Economics Association and Western Agricultural Economics Association Annual Meeting, San Francisco, California, United States of America. https://ideas.repec.org/p/ags/aaea15/205875.html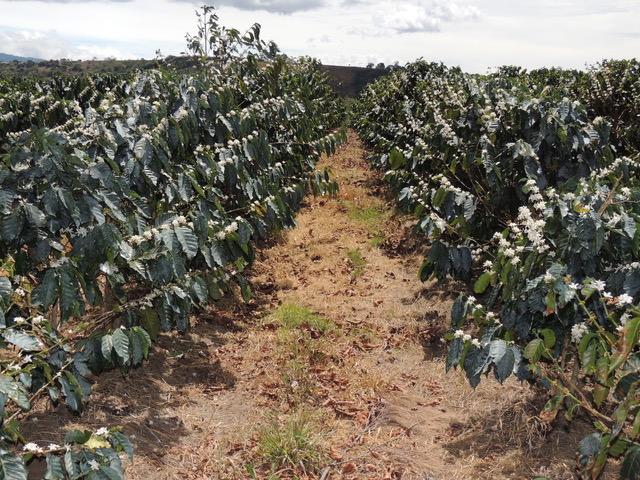 Additional Files
How to Cite
Chacón-Villalobos, Y., Chacón-Sancho, A., Vargas-Chinchilla, M., Cerdà-Subirachs, J. M., & Hernández-Pérez, R. (2021). New biostimulant for flowering and ripening in coffee (Coffea arabica L.). Agronomía Mesoamericana, 32(3), 983–990. https://doi.org/10.15517/am.v32i3.43935
License
1. Proposed policy for open access journals
Authors who publish in this journal accept the following conditions:

a. Authors retain the copyright and assign to the journal the right to the first publication, with the work registered under the attribution, non-commercial and no-derivative license from Creative Commons, which allows third parties to use what has been published as long as they mention the authorship of the work and upon first publication in this journal, the work may not be used for commercial purposes and the publications may not be used to remix, transform or create another work.
b. Authors may enter into additional independent contractual arrangements for the non-exclusive distribution of the version of the article published in this journal (e.g., including it in an institutional repository or publishing it in a book) provided that they clearly indicate that the work was first published in this journal.
c. Authors are permitted and encouraged to publish their work on the Internet (e.g. on institutional or personal pages) before and during the review and publication process, as it may lead to productive exchanges and faster and wider dissemination of published work (see The Effect of Open Access).