Egg parasitism of Lepidoptera pests (Insecta: Lepidoptera) by Trichogramma pretiosum (Hymenoptera: Trichogrammatidae) in tomato (Solanum lycopersicum)
Keywords:
Neoleucinodes, Phthorimaea, Tuta, Trichogramma, integrated pest management, vegetable crops
Abstract
Introduction. The tomato fruit borer Neoleucinodes elegantalis (Guenée) (Lepidoptera: Pyralidae), and the leafminers Phthorimaea operculella (Zeller) and Tuta absoluta Meyrick (Lepidoptera: Gelechiidae), affect tomato production in different areas in Venezuela. The parasitism of their eggs by Trichogramma pretiosum Riley (Hymenoptera: Trichogrammatidae) is a valuable low-cost and sustainable control alternative that combined with other forms of control would be an excellent component of Integrated Pest Management. Objective. To evaluate the parasitism exerted by T. pretiosum on the lepidopteran pest populations in tomato. Materials and methods. The evaluation was carried out in all sowings between June and August 2017, from the third week after the transplant until two weeks after the last flowering, in the localities of El Pueblito, Los Ejidos del Hato, and El Vigiadero, Jiménez municipality, Lara state, Venezuela. Parasitoid adults were released and subsequently leaflets were collected to evaluate the parasitism of the eggs of the leafminer species. At the onset of fruiting, small and medium-sized fruits including the calyx were collected and carefully cut from the floral peduncle. In both cases, eggs were counted. Results. In all evaluations, a parasitism varied between 43 and 53 % for N. elegantalis, and between 16 and 48 % for leafminer species was recorded. In the laboratory, the parasitism for P. operculella and T. absoluta ranged between 88 and 84 %, when eggs were separated, when eggs were together, a higher parasitism of P. operculella eggs (76 %) versus T. absoluta (44 %) was observed. Conclusions. T. pretiosum exerted a significant parasitism on the eggs of the three-lepidopteran species in tomato crops in Venezuela.
Downloads
Download data is not yet available.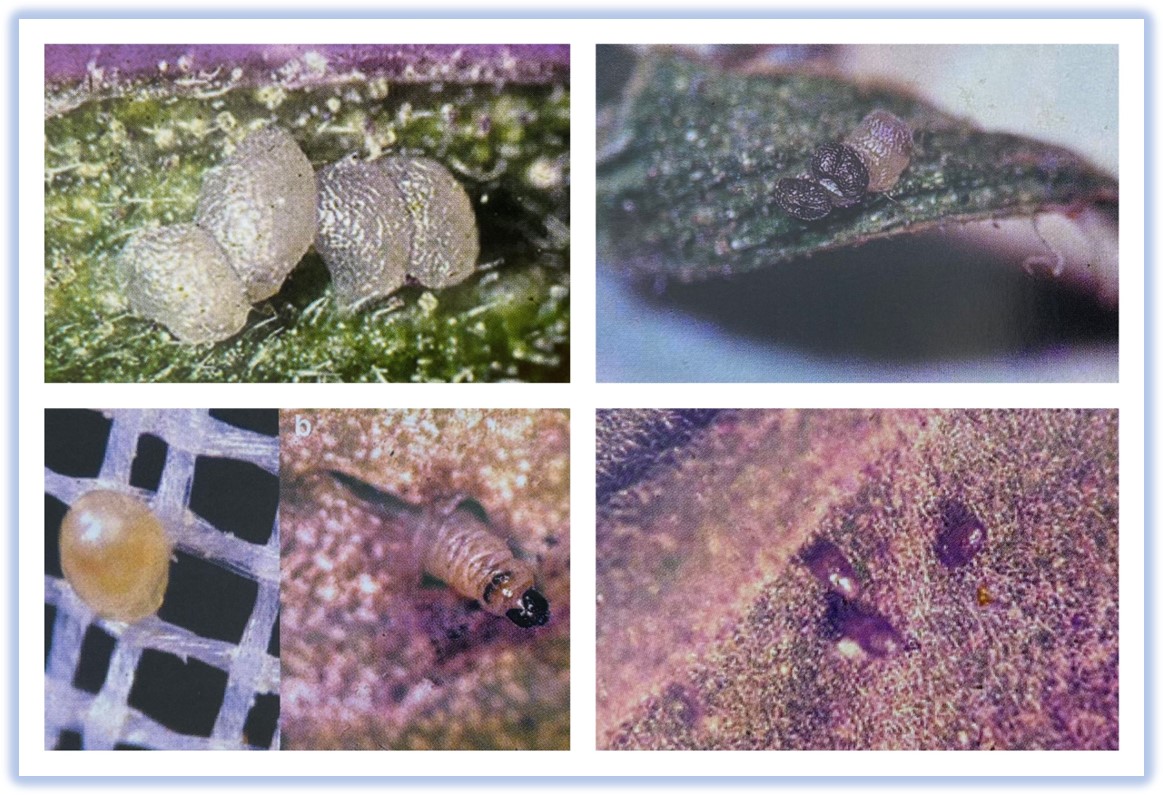 Additional Files
How to Cite
Salas, J., & Ferrer-Wurst, F. (2022). Egg parasitism of Lepidoptera pests (Insecta: Lepidoptera) by Trichogramma pretiosum (Hymenoptera: Trichogrammatidae) in tomato (Solanum lycopersicum). Agronomía Mesoamericana, 33(2), 43350. https://doi.org/10.15517/am.v33i2.43350
License
1. Proposed policy for open access journals
Authors who publish in this journal accept the following conditions:

a. Authors retain the copyright and assign to the journal the right to the first publication, with the work registered under the attribution, non-commercial and no-derivative license from Creative Commons, which allows third parties to use what has been published as long as they mention the authorship of the work and upon first publication in this journal, the work may not be used for commercial purposes and the publications may not be used to remix, transform or create another work.
b. Authors may enter into additional independent contractual arrangements for the non-exclusive distribution of the version of the article published in this journal (e.g., including it in an institutional repository or publishing it in a book) provided that they clearly indicate that the work was first published in this journal.
c. Authors are permitted and encouraged to publish their work on the Internet (e.g. on institutional or personal pages) before and during the review and publication process, as it may lead to productive exchanges and faster and wider dissemination of published work (see The Effect of Open Access).