Pea production and commercialization in the department of Nariño-Colombia
Keywords:
production costs, wholesale intermediaries, price variation
Abstract
Introduction. Traditional agricultural production systems prevail in the southern region of Nariño, however, the area harvested from transitory potato, corn and beans crops has been decreased. To address this problem, pea planting has been strengthened, which is marketed in local and regional markets. The department of Nariño is the first pea producer in Colombia, and in 2018, 9425 ha were reported, with an average yield of 1.19 t ha-1. The farmers in the study area are traditional and show technical limitations of production and commercialization. Objective. The objective of the investigation was to analyze the production and commercialization of peas in the department of Nariño. Materials and methods. The research was descriptive and allowed to establish costs, production volumes, planting times, product characteristics, prices, and marketing during 2012. The target population included producers, municipal intermediaries, wholesalers and retailers, and association leaders located in the pea-producing municipalities. Results. The Andean variety was the most sown, the post-harvest losses were 52 %, the prices vary due to the seasonality of production, and the greater volume of production was channeled through intermediaries. Conclusions. The production and commercialization of peas in Nariño presents difficulties that requiere sowing planning to balance production volumes, access development credit, train and organize farmers, and foster strategic alliances to guarantee conditions in the value chain.
Keywords: productivity, competitiveness, value generation, production flow.
Downloads
Download data is not yet available.
References
Burbano, E., J.J. Domínguez, y O.E. Checa. 2018. Efecto de cinco densidades de siembra en líneas de arveja Pisum sativum L. con el gen mutante. Invest. Agrar. 20(1):22-29. doi:10.18004/investig.agrar.2018.junio.22-29
Cano, C. 2006. Después del TLC ¿qué? Intermedio Editores, Bogotá, COL.
Casanova, L., J. Solarte, y O. Checa. 2012. Evaluación de cuatro densidades de siembra en siete líneas promisorias de arveja arbustiva (Pisium sativum L.). Rev. Cienc. Agric. 29(2):129-140.
Checa, O., y M. Rodríguez. 2015. Resistencia a oídio (Erysiphe polygoni) y rendimiento en arveja afila (Pisum sativum L.). Temas Agrar. 20(2):58-71.
Coral, L., F. Torres, y B. Yépez. 2012. Estudio de mercado para la comercialización de uchuva Physalis peruviana L. en Nariño. Rev. Cienc. Agric. 29(1):88-98.
DANE (Departamento Administrativo Nacional de Estadística). 2013. Precios mayoristas. Boletín Semanal No. 30. DANE, COL. https://www.dane.gov.co/files/investigaciones/agropecuario/sipsa/Semana_5ene_11ene_2013.pdf (consultado 9 ene. 2018).
CCI (Corporación Colombiana Internacional). 2008. Consolidado agropecuario 2008. Ministerio de Agricultura, Corporación Colombia Internacional, y Secretaría de Agricultua y Medio Ambiente, Pasto, COL.
dolarweb. 2012. Dólar histórico en Colombia del año 2012. dolarweb, COL. https://dolar.wilkinsonpc.com.co/dolar-historico/dolar-historico-2012.html (consultado 15 feb. 2019).
FENALCE (Federación Nacional de Cultivadores de Cereales y Leguminosas). 2018. Área, producción y rendimiento cereales y leguminosas 2018 A. FENALCE, COL. http://www.fenalce.org/alfa/dat_particular/ar/ar_25195_q_APR_2018_A_Abril.pdf (consultado 17 feb. 2019).
Figueroa, D., D. Rosas, y F. Torres. 2012. Comercialización de papa de las variedades Diacol, capiro, parda pastusa Solunum tuberosum L. y amarilla Solanum phureja, en tres corregimientos del municipio de Pasto. Rev. Cienc. Agríc. 29(1):16-28.
FINAGRO (Fondo para el Financiamiento del Sector Agropecuario). 2018. Portafolio de servicios de crédito. FINAGRO, Bogotá, COL.
Gaither, N., and G. Frazier. 2002. Operations management. 9th ed. Prentice Hall, OH, USA.
Hernández, R., C. Fernández, y P. Baptista. 2014. Metodología de la investigación. 6ta ed. El Estado de Jalisco Peródico Oficial, MEX. https://periodicooficial.jalisco.gob.mx/sites/periodicooficial.jalisco.gob.mx/files/metodologia_de_la_investigacion_-_roberto_hernandez_sampieri.pdf (consultado 29 ago. 2019).
Peñaranda, G., y D. Molina. 2011. La producción de arveja (Pisum sativum) en la vereda Monteadentro, Provincia de Pamplona, Norte de Santander. Face 7(11):43-56.
SAD (Secretaría de Agricultura Departamental). 2005. Informe estadístico agropecuario. Imprenta Departamental, San Juan, Pasto, COL.
Serrano, I. 2007. Análisis de la aplicabilidad de la técnica Value stream mapping en el rediseño de sistemas productivos. Tesis Dr., Universidad de Girona, Girona, ESP.
Torres, G. 2010. Distribución de alimentos. Mercados y políticas sociales. Universidad Nacional Autónoma de México, MEX.
Valencia, A., Y. Timaná, y O. Checa. 2012. Evacuación de 20 líneas de arveja (Pisum sativum L.) y su reacción al complejo de Ascochyta. Rev. Cienc. Agríc. 29(2):39-52.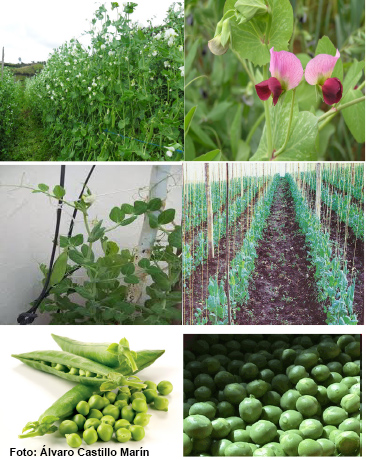 Additional Files
How to Cite
Torres-Martínez, F. J., Rivadeneira-Miranda, C. N., & Castillo-Marín, Álvaro J. (2020). Pea production and commercialization in the department of Nariño-Colombia. Agronomía Mesoamericana, 31(1), 129–140. https://doi.org/10.15517/am.v31i1.36776
License
1. Proposed policy for open access journals
Authors who publish in this journal accept the following conditions:

a. Authors retain the copyright and assign to the journal the right to the first publication, with the work registered under the attribution, non-commercial and no-derivative license from Creative Commons, which allows third parties to use what has been published as long as they mention the authorship of the work and upon first publication in this journal, the work may not be used for commercial purposes and the publications may not be used to remix, transform or create another work.
b. Authors may enter into additional independent contractual arrangements for the non-exclusive distribution of the version of the article published in this journal (e.g., including it in an institutional repository or publishing it in a book) provided that they clearly indicate that the work was first published in this journal.
c. Authors are permitted and encouraged to publish their work on the Internet (e.g. on institutional or personal pages) before and during the review and publication process, as it may lead to productive exchanges and faster and wider dissemination of published work (see The Effect of Open Access).