A small-flowered <i>Cyrtochilum</i> (Oncidiinae) from Colombia
Keywords:
Gachetá, new species, Orchidaceae, taxonomy
Abstract
A new species of Cyrtochilum from the Cordillera Oriental range in the department of Cundinamarca, Colombia, is described, illustrated, and compared with C. suarezii and C. parviflorum. The new species is easily distinguished by its broadly elliptic to sub–rhomboid lip with two short rounded simple calli on the lip, ornamented with short papillae at the base.
Downloads
Download data is not yet available.
References
Antonelli, A., Freír, C., Smith, R. J., Simmonds, M., Kersey, P., Pritchard, H., Abbo, M., Acedo, C., Acedo, C., Adams, J., Ainsworth, A., Allkin, B., Annecke, W., Bachman, S., Bacon, K., Barrios, S., Barstow, C., Battison, A., Campana, E., Bensusan, K., Bidartondo, M., Blackhall-Miles, R., Borrell, J., Brearley, F., Breman, E., Cervecero, R., Brodie, J., Cámara-Leret, R., Campostrini Forzza, R., Cañón, P., Carine, M., Carretero, J., Cavagnaro, T., Cazar, M., Chapman, T., Mejilla, M., Clubbe, C., Berberecho, C., Collemare, J., Cooper, A., Copeland, A., Corcorán, M., Sofá, C., Cowell, C., Crous, P., da Silva, M., Dalle, G., Das, D., David, J., Davis, L., Davis, N., De Canha, M., de Lirio, E., Demissew, S., Diazgranados, M., Dickie, J., Cena, T., Douglas, B., Dröge, G., Dulloo, M., Ehsan, Colmillo, R., Farlow, A., Farrar, K., Fay, M., Félix, J., Bosque, F., Forrest, L., Fulcher, T., Gafforov, Y., Gardiner, L., Gateble, G., Gayá, E., Geslin, B., Gonçalves, S., Gore, C., Govaert. (2020). State of the world's plants and fungi 2020. Retrieved from https://www.kew.org/science/state-of-the-worlds-plants-and-fungi [Accessed: 30 09 2022]
Bernal, R., Gradstein, S. R. & Celis, M. (eds.). (2019). Catálogo de plantas y líquenes de Colombia. Bogotá: Instituto de Ciencias Naturales, Universidad Nacional de Colombia. http://catalogoplantasdecolombia.unal.edu.co
Dalström, S. (2001). A synopsis of the genus Cyrtochilum (Orchidaceae; Oncidiinae): Taxonomic reevaluation and new combinations. Lindleyana, 16(2), 56–80.
Dalström, S. & Higgins, W. E. (2020). A new small-flowered Cyrtochilum species (Orchidaceae: Oncidiinae) from the Condor mountains in Ecuador. Lankesteriana, 20, 159–166. https://doi.org/10.15517/LANK.V20I2.42396
IUCN. (2020). The IUCN Red List of threatened species v. 2019-3. Gland, Switzerland.
Ortiz-Valdivieso, P. & Uribe-Vélez, C. (2007). Galería de Orquídeas de Colombia (CD edition). Bogotá, Colombia: Asociación Bogotana de Orquideología.
POWO. (2022). Plants of the World Online. Facilitado por Royal Botanic Gardens, Kew. Publicado en Internet; http://www.plantsoftheworldonline.org/ Consultado el 30 de junio de 2022.
Szlachetko, D., Kolanowska, M., Naczk, A., Górniak, M., Dudek, M., Rutkowski, P., and Guy Chiron, G. (2017). Taxonomy of Cyrtochilum alliance (Orchidaceae) in the light of molecular and morphological data. Botanical Studies, 58:1–28. https://doi.org/10.1186/s40529-017-0164-z
Uribe, J. (2008). Cyrtochillums de Colombia. Orquideología, 25(2), 178.
Zizka, A., Silvestro, D., Vitt, P., Knight, T. M. (2020). Automated conservation assessment of the orchid family with deep learning. Conservation Biology, 35(3), 897–908. doi: 10.1111/cobi.13616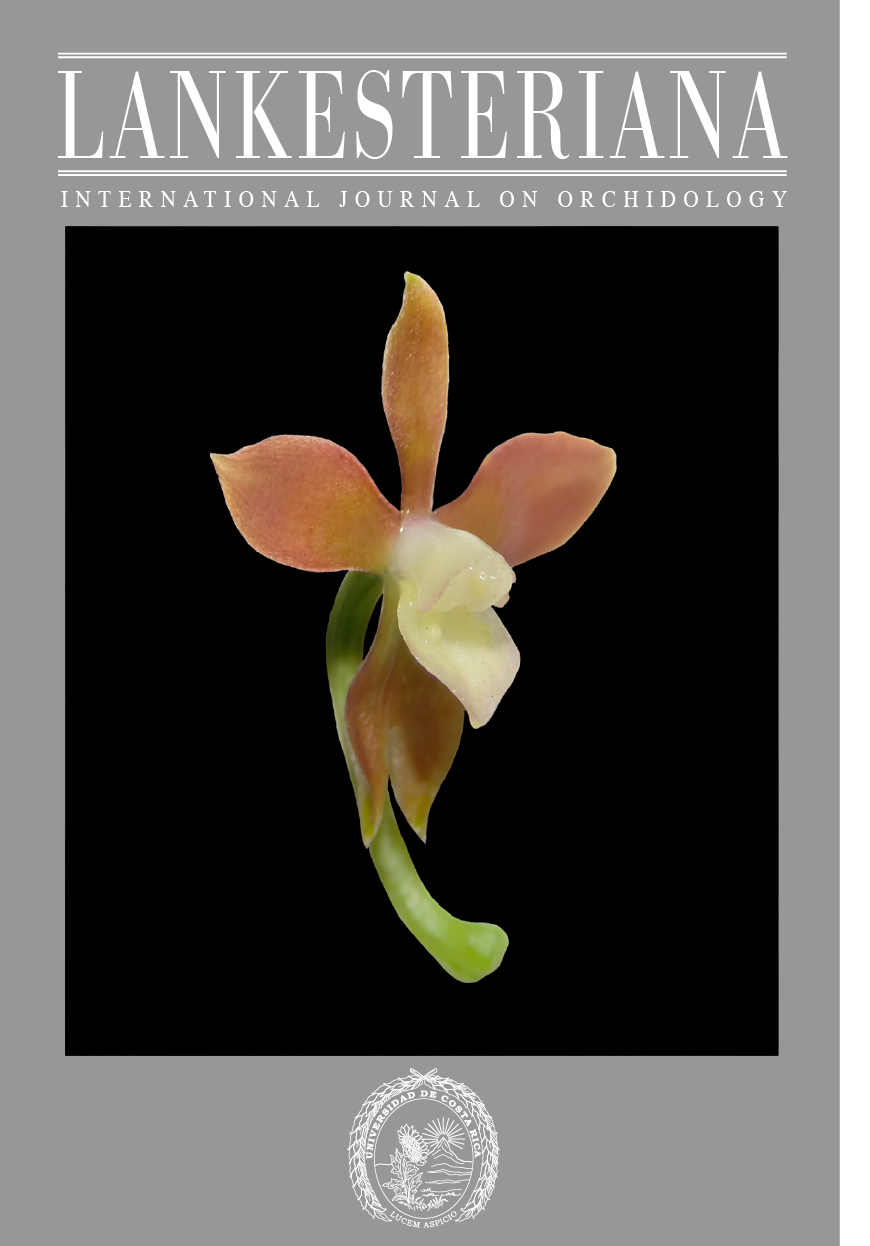 How to Cite
Ordóñez-Blanco, J. C., & Parra-Sánchez, E. (2022). A small-flowered <i>Cyrtochilum</i> (Oncidiinae) from Colombia. Lankesteriana: International Journal on Orchidology, 22(3), 207–214. https://doi.org/10.15517/lank.v22i3.52974
License
Copyright (c) 2022 Lankester Botanical Garden, University of Costa Rica
This work is licensed under a Creative Commons Attribution-NonCommercial-NoDerivatives 3.0 Unported License.
According to the Open Access policy promoted by the University of Costa Rica, all the papers published by Lankesteriana are licensed under the Creative Commons copyright and can be downloaded free of charge. The journal holds copyright and publishing rights under the CC BY-NC-ND 3.0 CR license.
Before the publication of the materials submitted by the author(s) in LANKESTERIANA, the author(s) hereby assign all rights in the article to the Lankester Botanical Garden.