A new small-flowered <i>Cyrtochilum</i> species (Orchidaceae: Oncidiinae) from the Condor mountains in Ecuador
Abstract
A new small-flowered species of Cyrtochilum  from  the  isolated  range  of  the  Condor  mountains   in   Ecuador   is   described   and   illustrated   with   a   line   drawing   and   a   photograph   of   the   holotype.   It   shares   morphological  features  with  several  different-­looking  groups  of  Cyrtochilum,  such  as  the  two  generitypes  of   the  genus:  C.  undulatum  and C. flexuosum,  as  well  as  with  plants  in  the  C.  myanthum  complex.  These  groups   are   treated   as   three   separate   genera   by   some   (Cyrtochilum,   Trigonochilum   and  Dasyglossum, respectively),   but  the  combination  of  morphological  features  seen  in  our  new  species  brings  the  groups  together  into  one   polymorphic  but  genetically  monophyletic  genus.
Key words:  Condor,  Cyrtochilum,  new  species,  Oncidiinae
Downloads
Download data is not yet available.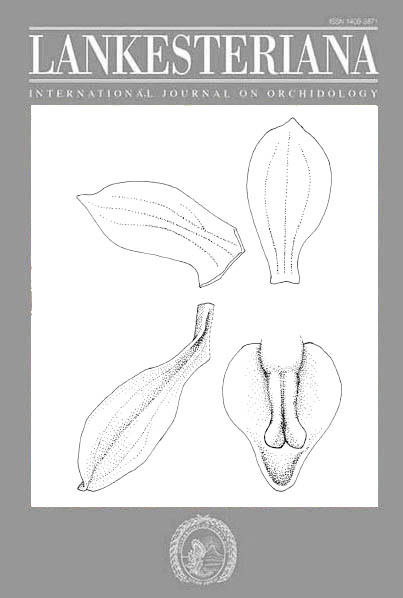 Downloads
How to Cite
Dalström, S., & Higgins, W. (2020). A new small-flowered <i>Cyrtochilum</i> species (Orchidaceae: Oncidiinae) from the Condor mountains in Ecuador. Lankesteriana: International Journal on Orchidology, 20(2), 159–166. https://doi.org/10.15517/lank.v20i2.42396
License
According to the Open Access policy promoted by the University of Costa Rica, all the papers published by Lankesteriana are licensed under the Creative Commons copyright and can be downloaded free of charge. The journal holds copyright and publishing rights under the CC BY-NC-ND 3.0 CR license.
Before the publication of the materials submitted by the author(s) in LANKESTERIANA, the author(s) hereby assign all rights in the article to the Lankester Botanical Garden.