<i>Scaphosepalum luannae</i>, a new species, and <i>Scaphosepalum anchoriferum</i> (Orchidaceae: Pleurothallidinae) from North-Western Ecuador
Keywords:
Ecuador, new species, Reserva Dracula, Scaphosepalum anchoriferum
Abstract
A new species, Scaphosepalum luannae, is described, and new records for Scaphosepalum anchoriferum from Ecuador are presented. Scaphosepalum luannae is superficially similar to S. swertiifolium but it differs in the dark green leaves, conspicuously nerved at the abaxial side and shiny at the adaxial side, the sub-quadrate petals with a basal lobe at the columnar margin and the lip with a truncate base without lobes with an oblong and flat hypochile. Scaphosepalum luannae and S. anchoriferum were discovered growing sympatrically in a poorly explored cloud forest from north-western Ecuador, near the border with Colombia.
Downloads
Download data is not yet available.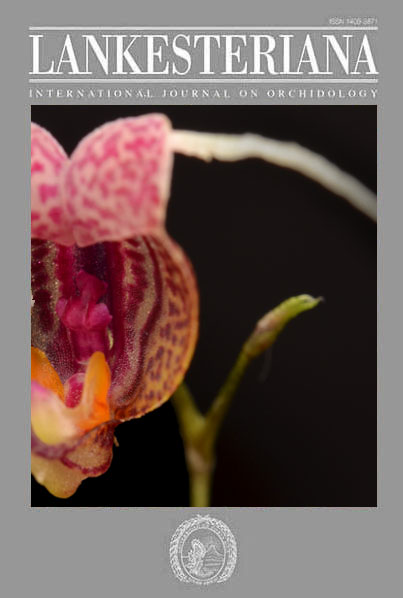 Downloads
How to Cite
Baquero, L. E. (2019). <i>Scaphosepalum luannae</i>, a new species, and <i>Scaphosepalum anchoriferum</i> (Orchidaceae: Pleurothallidinae) from North-Western Ecuador. Lankesteriana: International Journal on Orchidology, 19(3), 271–279. https://doi.org/10.15517/lank.v19i3.39971
License
According to the Open Access policy promoted by the University of Costa Rica, all the papers published by Lankesteriana are licensed under the Creative Commons copyright and can be downloaded free of charge. The journal holds copyright and publishing rights under the CC BY-NC-ND 3.0 CR license.
Before the publication of the materials submitted by the author(s) in LANKESTERIANA, the author(s) hereby assign all rights in the article to the Lankester Botanical Garden.