<i>Telipogon mayoi</i> (Orchidaceae), a new species from the Western Andes of Colombia
Keywords:
Andes, cloud forest, Colombia, miniature Telipogon, Oncidiinae
Abstract
Telipogon mayoi, from the western Colombian Andes, is proposed as a new species. The species was found in "La Elvira" National Protective Forest in the Yumbo Municipality, one of the oldest protected areas in Colombia, close to the Farallones de Cali National Park, both localities in the Dapa Mountains. Specimens of Telipogon mayoi were previously misidentified as Telipogon lankesteri Ames and T. williamsii P.Ortiz, but detailed analysis of the floral morphology revealed that it is different. Telipogon mayoi is most similar to T. lankesteri but it is characterized by the crenulated margins of the leaves (vs. entire margins), the ovate oblong lip (vs. oblong lanceolate) and furcate setae on the column (vs. simple setae). We provide a description, illustrations, a plate, in situ photographs, a distribution map, and ecological notes.
Downloads
Download data is not yet available.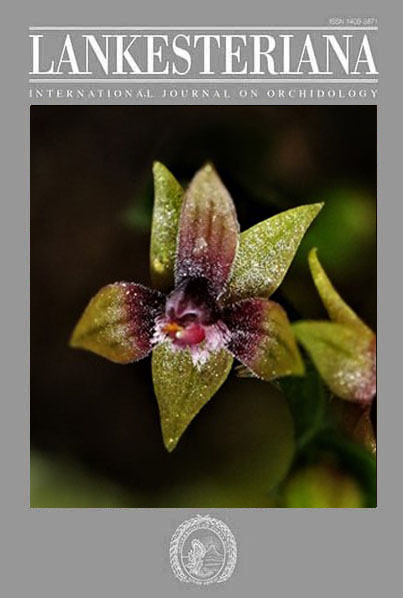 Downloads
How to Cite
Reina-Rodríguez, G. A., López-Machado, F., & Martel, C. (2019). <i>Telipogon mayoi</i> (Orchidaceae), a new species from the Western Andes of Colombia. Lankesteriana: International Journal on Orchidology, 19(3), 263–270. https://doi.org/10.15517/lank.v19i3.39969
License
According to the Open Access policy promoted by the University of Costa Rica, all the papers published by Lankesteriana are licensed under the Creative Commons copyright and can be downloaded free of charge. The journal holds copyright and publishing rights under the CC BY-NC-ND 3.0 CR license.
Before the publication of the materials submitted by the author(s) in LANKESTERIANA, the author(s) hereby assign all rights in the article to the Lankester Botanical Garden.