New combinations and other taxonomic changes for the forthcoming 'Flore des Mascareignes' Orchidaceae accounts
Abstract
In preparation for the forthcoming orchid accounts of the Flore des Mascareignes lectotypifications are made for Angraecum cadetii, A. cornigerum, A. corrugatum, A. costatum, A. eburneum, A. mauritianum, A, patens, A. pingue, A. tenuifolium, Benthamia erinacea, B. perfecundum, Bulbophyllum commersonii, B. compressum, B. conicum, B. cordemoyi, B. densum, B. pusillum, B. variegatum, Cynorkis arnottioides, C. calcarata, C. calcaripotens, C. cordemoyi, C. falcata, C. fastigiata, C. flexuosatis, C. graminea, C. lilacina, C. nervilabris, C. paradoxa, C. pleiadea, C. purpurascens, C. reticulate, C. squamosa, C. trilinguis, C. variegata, Disperis cordata, Gastrorchis villosa, Habenaria arachnoides, H. lancifolia, H. praealta, H. undulata, Platylepis densiflora, P. margartifera, P. occlusa, Oeceoclades analavelensis and O. pulchra. Neotypifications are made for Angraecum tenuifolium, Benthamia spiraloides, Cynorkis coccinelloides and C. constellata. Clarification is provided of the taxonomy of Angraecum crassifolium, A. tenellum, Benthamia erinacea, Bulbophyllum densum, B. elliotii, B. incurvum, B. pendulum, Cheirostylis boryi, C. gymnochiloides, C. nuda, Cynorkis calcarata, C. coccinelloides, C. falcata, C. flexuosatis, C. squamosa, Habenaria sigillum, Oeceoclades analavelensis, Platylepis densiflora, P. margaritifera and P. occulta. New combinations are made for Benthamia spiraloides, Bulbophyllum elliotii var. latibracteatum, Cheirostylis boryi, Cynorkis aristei and C. flexuosatis.
Key words/Palabras clave: Mauritius, new combinations, nuevas combinaciones, new synonyms, nuevos sinónimos, Reunion, Rodrigues, typification, tipificación
Downloads
Download data is not yet available.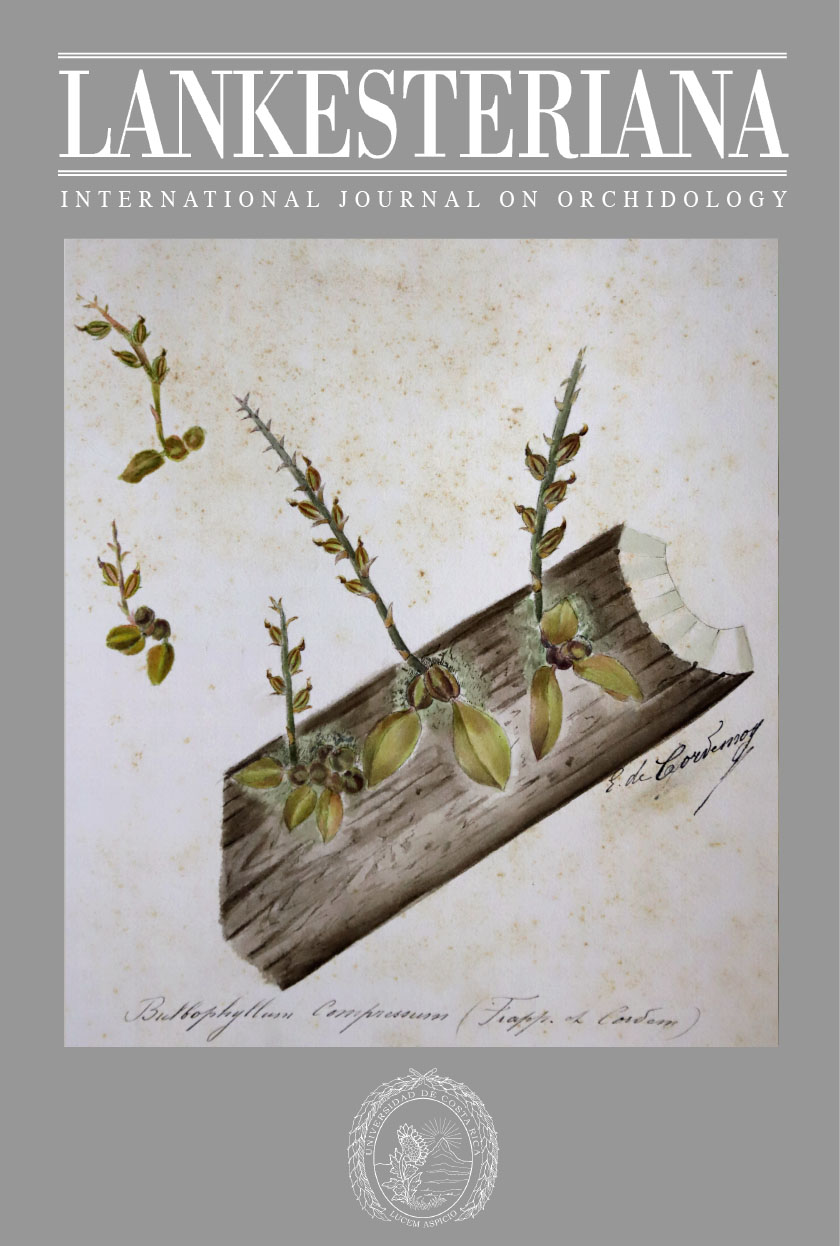 How to Cite
Hermans, J., & Cribb, P. (2021). New combinations and other taxonomic changes for the forthcoming 'Flore des Mascareignes' Orchidaceae accounts. Lankesteriana: International Journal on Orchidology, 21(2), 61–137. https://doi.org/10.15517/lank.v21i2.47156
License
According to the Open Access policy promoted by the University of Costa Rica, all the papers published by Lankesteriana are licensed under the Creative Commons copyright and can be downloaded free of charge. The journal holds copyright and publishing rights under the CC BY-NC-ND 3.0 CR license.
Before the publication of the materials submitted by the author(s) in LANKESTERIANA, the author(s) hereby assign all rights in the article to the Lankester Botanical Garden.