Cypripedium calceolus is considered as one of the flagship plant species of nature conservation. It is legalCypripedium calceolus (Orchidaceae) in Central Russia: a case study for its populations in two protected areas in the Republic of Mordovia (Russia)
Abstract
Cypripedium calceolus is considered as one of the flagship plant species of nature conservation. It is legally protected throughout Eurasia. Due to its wide distribution range, this Eurasian species could be considered as Least Concern, Near Threatened, Vulnerable, Endangered or Critically Endangered taxon. We performed an analysis of the status for some C. calceolus populations in Central Russia located in the Republic of Mordovia, with emphasis on populations situated in the federal protected areas. The aim of our study was to asses the modern state and the endangerment of C. calceolus populations. The environment conditions and species composition in five habitats with rare species in Mordovia were compared using phytoindication methods. Changes in stage spectrum and total abundance dynamics in C. calceolus populations over 2011–2016 were estimated and compared with available data from other locations within species' range. Reproductive ability of populations from the federal protected area, Mordovia State Nature Reserve, were studied. The results showed that C. calceolus grows in three habitat types that differed in environment conditions and floristic composition. Convallaria majalis was the only species registered in all studied locations, together with C. calceolus. In Central Russia this species occurs in broad-leaved, coniferous and mixed forests. The three populations of C. calceolus within the Mordovia State Nature Reserve and National Park "Smolny" were characterized by the dominance of vegetative individuals in stage spectrum, while generative plants predominated in two other populations located in mixed forests. No correlation between total abundance of individuals and stage spectrum in populations of threatened species has been found over the study period. The population in Mordovia Reserve showed a higher fruit set (36.7% as a mean) than others reported within its range. Continued population monitoring of C. calceolus in Central Russia from different habitat types is suggested. Generalization of jointly obtained demographic, ecological, phytocoenological data will be appropriate in order to develop measures for conservation and management of C. calceolus habitats. 
Downloads
Download data is not yet available.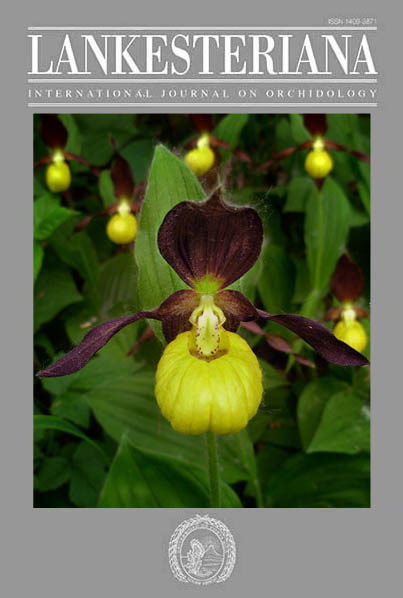 Downloads
How to Cite
Khapugin, A. A., Chugunov, G. G., & Vargot, E. V. (2017). Cypripedium calceolus is considered as one of the flagship plant species of nature conservation. It is legalCypripedium calceolus (Orchidaceae) in Central Russia: a case study for its populations in two protected areas in the Republic of Mordovia (Russia). Lankesteriana: International Journal on Orchidology, 17(3). https://doi.org/10.15517/lank.v17i3.31577
License
According to the Open Access policy promoted by the University of Costa Rica, all the papers published by Lankesteriana are licensed under the Creative Commons copyright and can be downloaded free of charge. The journal holds copyright and publishing rights under the CC BY-NC-ND 3.0 CR license.
Before the publication of the materials submitted by the author(s) in LANKESTERIANA, the author(s) hereby assign all rights in the article to the Lankester Botanical Garden.