Four new <i>Teagueia</i> (Orchidaceae: Pleurothallidinae) from the upper Río Pastaza watershed of east-central Ecuador
Abstract
The genus Teagueia, once considered a minor genus with few species, has undergone a surprisingly diverse local evolutionary radiation in the upper Río Pastaza watershed of the eastern Andes of Ecuador. All species forming this local radiation are long-repent, in contrast to the rest of the species in the genus. Six species from this local radiation have been described previously, and four additional species are described here. The four new species are each distinguished by their particular lip shapes, differences in flower sizes, and differences in leaf textures. The new species, like the others in this radiation, all have extremely narrow distributions.
Downloads
Download data is not yet available.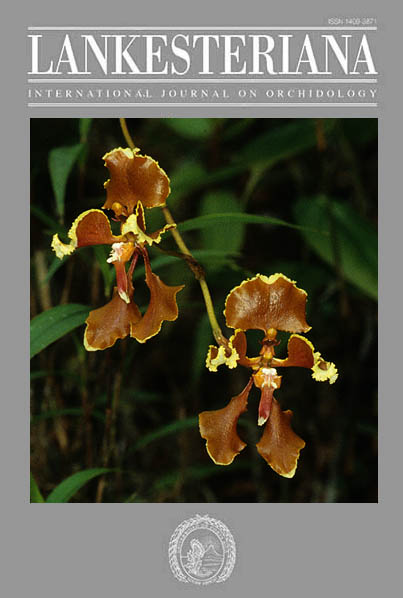 Downloads
How to Cite
Jost, L., & Shepard, A. (2017). Four new <i>Teagueia</i> (Orchidaceae: Pleurothallidinae) from the upper Río Pastaza watershed of east-central Ecuador. Lankesteriana: International Journal on Orchidology, 17(2). https://doi.org/10.15517/lank.v17i2.30159
License
According to the Open Access policy promoted by the University of Costa Rica, all the papers published by Lankesteriana are licensed under the Creative Commons copyright and can be downloaded free of charge. The journal holds copyright and publishing rights under the CC BY-NC-ND 3.0 CR license.
Before the publication of the materials submitted by the author(s) in LANKESTERIANA, the author(s) hereby assign all rights in the article to the Lankester Botanical Garden.