Two new species of <i>Pleurothallis</i> (Orchidaceae: Pleurothallidinae) from Costa Rica in the <i>P. phyllocardia</i> group
Abstract
Two new species of Pleurothallis subsection Macrophyllae-Fasciculatae from Costa Rica are described and illustrated, and their relationships discussed. Pleurothallis pudica, from the central Pacific mountain region, is compared with P. phyllocardia, but it is easily recognized by the densely pubescent- hirsute flowers. Pleurothallis luna-crescens, from the Caribbean slope of the Talamanca chain, is compared with P. radula and P. rectipetala, from which it is distinguished by the dark purple flowers and the distinctly longer, dentate petals, respectively. A key to the species of the group in Costa Rica and western Panama is presented. 
Downloads
Download data is not yet available.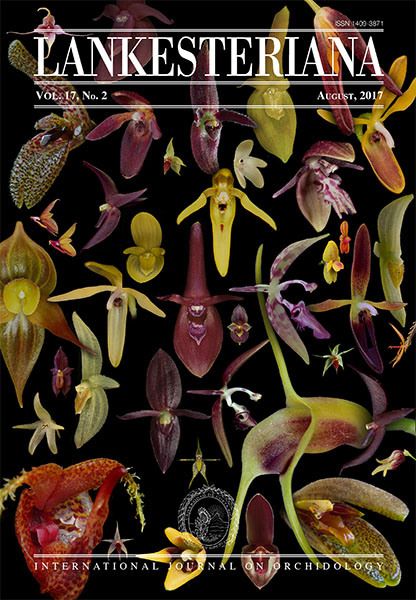 Downloads
How to Cite
Pupulin, F., Díaz-Morales, M., Fernández, M., & Aguilar, J. (2017). Two new species of <i>Pleurothallis</i> (Orchidaceae: Pleurothallidinae) from Costa Rica in the <i>P. phyllocardia</i> group. Lankesteriana: International Journal on Orchidology, 17(2). https://doi.org/10.15517/lank.v17i2.29850
License
According to the Open Access policy promoted by the University of Costa Rica, all the papers published by Lankesteriana are licensed under the Creative Commons copyright and can be downloaded free of charge. The journal holds copyright and publishing rights under the CC BY-NC-ND 3.0 CR license.
Before the publication of the materials submitted by the author(s) in LANKESTERIANA, the author(s) hereby assign all rights in the article to the Lankester Botanical Garden.