A new species of <i>Pleurothallis</i> (Orchidaceae: Pleurothallidinae) from Valle del Cauca, Colombia and a note on the relationship between subsections <i>Macrophyllae-Racemosae</i> and <i>Antenniferae</i>
Abstract
A new species of Pleurothallis from subsection Macrophyllae-Racemosae is described from Valle del Cauca, Colombia. Morphological characteristics to distinguish this species from Pleurothallis bicornis, P. subreniformis and P. torrana are presented. The micromorphology of the lip of the new species was studied utilizing scanning electron microscopy. Labellar micromorphology is discussed in relation to putative pollination mechanisms. 
Downloads
Download data is not yet available.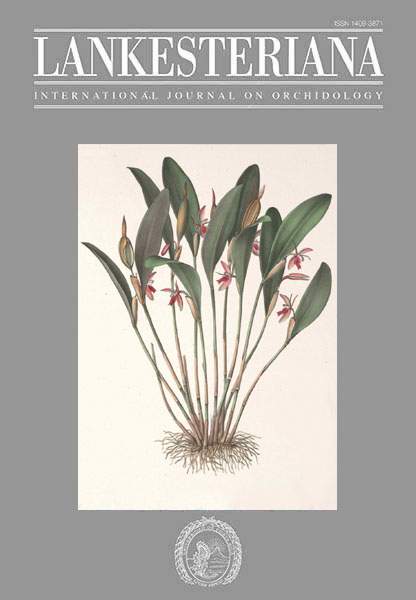 Downloads
How to Cite
Wilson, M., Dupree, K., García Lopera, D., Haelterman, D., Kay, A., Mesa Londoño, C., Niessen, A., Pinnix, W., Portilla, J., & Werner, J. D. (2017). A new species of <i>Pleurothallis</i> (Orchidaceae: Pleurothallidinae) from Valle del Cauca, Colombia and a note on the relationship between subsections <i>Macrophyllae-Racemosae</i> and <i>Antenniferae</i>. Lankesteriana: International Journal on Orchidology, 17(2). https://doi.org/10.15517/lank.v17i2.29804
License
According to the Open Access policy promoted by the University of Costa Rica, all the papers published by Lankesteriana are licensed under the Creative Commons copyright and can be downloaded free of charge. The journal holds copyright and publishing rights under the CC BY-NC-ND 3.0 CR license.
Before the publication of the materials submitted by the author(s) in LANKESTERIANA, the author(s) hereby assign all rights in the article to the Lankester Botanical Garden.