Sixteen new species of <i>Bulbophyllum</i> section <i>Polymeres</i> (Orchidaceae) from New Guinea
Abstract
Sixteen new species of Bulbophyllum section Polymeres (Orchidaceae) from New Guinea (Papua New Guinea and Papua Province of Indonesia) are described. Four informal series in this speciose section are distinguished as an aid to identification and a key for these is provided. The sixteen species belong to two series, sharing one character: new shoots arise from a node along the rhizome or from the basal node of the pseudobulb, without being fused to it any further than the node from which they arise. The first group (with ten new species: Bulbophyllum cerastes, B. dologlossum, B. ischyron, B. nannae, B. orthoraphe, B. schistopogon, B. stagmatoglossum, B. subium, B. teinodragma, B. trivenosum) comprises plants with creeping rhizomes, the second (with six new species: Bulbophyllum farciminiferum, B. gymnothema, B. lipochilum, B. nudicaule, B. radula, B. squamiplectum) comprises plants with patent rhizomes.
Key Words: Bulbophyllum section Polymeres informal series, new species, Papua New Guinea
Downloads
Download data is not yet available.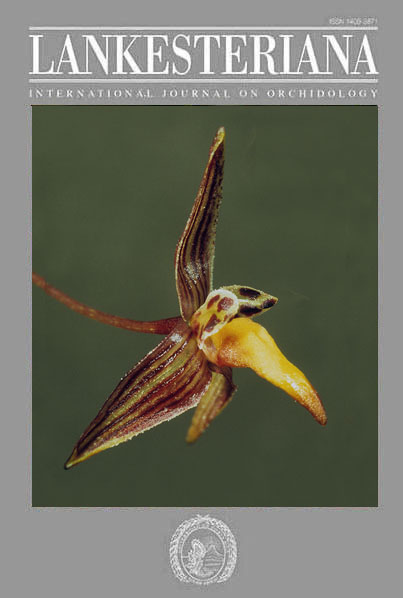 Downloads
How to Cite
Vermeulen, J. J., Schuiteman, A., & de Vogel, E. F. (2020). Sixteen new species of <i>Bulbophyllum</i> section <i>Polymeres</i> (Orchidaceae) from New Guinea. Lankesteriana: International Journal on Orchidology, 20(3), 301–330. https://doi.org/10.15517/lank.v20i3.44438
License
According to the Open Access policy promoted by the University of Costa Rica, all the papers published by Lankesteriana are licensed under the Creative Commons copyright and can be downloaded free of charge. The journal holds copyright and publishing rights under the CC BY-NC-ND 3.0 CR license.
Before the publication of the materials submitted by the author(s) in LANKESTERIANA, the author(s) hereby assign all rights in the article to the Lankester Botanical Garden.